Landlord maintenance obligations in Ontario
It can sometimes be unclear what maintenance requests landlords are obliged to fulfill. The best source for this information is
Ontario's Residential Tenancies Act.
While the act is not prescriptive for all scenarios, it does provide guidelines to help you navigate what you are legally bound to as a landlord when it comes to maintenance and repairs.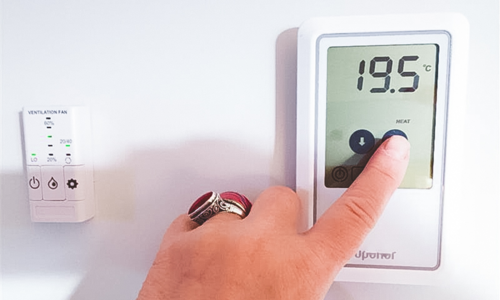 Property owner responsibilities
Property owners renting to tenants must keep the rental unit in working order. Even if a tenant agreed to rent a place while some element of the unit was in disrepair, or there is no written rental agreement, a landlord is still legally obligated to complete repairs. Ontario's Residential Tenancies Act states that the maintenance standards must show "good workmanship".
Elements that need to be kept in working order:
STRUCTURAL ELEMENTS: roofs, retaining walls, guards and fences.

PLUMBING: toilets, sinks, waterproofing, bathtubs and showers, hot and cold running water.

SUPPLY OF ELECTRICAL POWER: wiring and receptacles and outlets for cooking appliances. If the unit has a meter it needs to be maintained and accessible to tenants.

HEATING: legally, the home's temperature must be kept at 20 degrees celsius or higher from Sept 1 to June 15. The minimum temperature in some municipalities is higher, so it is good to check. Portable heating equipment cannot be the main source of heat. Fuel and utilities, fuel storage, air supply and all systems tied to heating (stoves, heating appliances, fireplaces, fans, chimneys, pumps, filtration equipment).

LIGHTING AND VENTILATION: interior and exterior artificial lighting, ventilation systems, chimneys, flues and gas vents, smoke-pipes, parking garages, doors, windows and skylights.

SAFETY AND SECURITY: guards (to prevent accidental falls), window safety devices, surfaces of driveways and locking windows and doors must be maintained. Abandoned fridges and inoperative vehicles must be removed. Exterior common areas must be free of unsafe accumulations of snow and ice, noxious weeds, dead, decayed or damaged trees, rubbish or debris, or structures that create unsafe conditions. Wells and holes must be filled or safely covered.

GENERAL MAINTENANCE: Floors, cabinets, walls and ceilings, appliances, locker and storage rooms, elevators, common areas, garbage and interior doors must be maintained. Areas where people live must be maintained to avoid heat loss.

RODENTS AND PESTS: Rental properties must be kept "reasonably free" of vermin, rodents and insects. Methods for exterminating insects and rodents must comply with provincial/municipal bylaws. Openings and holes must be sealed to prevent rodents, pests and insects from entering the home.

Repairs: Who pays? Landlords or Tenants?
If something breaks or stops working properly, a property owner must repair or replace it, but the replacement model doesn't have to be brand new or better than the old one, it just needs to work.
If a tenant or their guest damages the unit or the building, they are responsible for repairing it (normal wear and tear does not apply — the landlord is responsible for that). The tenant can either pay to have it repaired, or repair it themselves. If a tenant does not fulfill this obligation, this is grounds for eviction according to the Residential Tenancies Act.
If a landlord fails to fulfill what they are legally obligated to provide according to the Residential Tenancies Act, a tenant can sue the property owner. If the court finds the landlord failed to provide habitable living conditions for their clients, it can lower the tenant's rent as a way of awarding the tenant damages for the time during which the repairs were not done. The repairs still need to be completed.


Keeping the property clean, meeting property standards and fire safety laws:
The grounds and common areas of the building must be kept clean. Landlords need to make an effort to prevent and control pests like cockroaches and mice.
Landlords are responsible for ensuring the rental property complies with all health, safety, maintenance and housing standards. If a municipality has not set their own standards, then the province's Residential Tenancies Act is enforced and applied.
A rental property must comply with all applicable fire safety laws. To learn more about fire safety laws in Ontario, click here.


Tenant Responsibilities
It is a tenant's responsibility to keep the unit clean (to a level that most people would find ordinary). A person cannot be evicted strictly on the basis that they did not keep their rental unit clean enough — but they can be, if the lack of cleanliness jeopardizes the safety of the landlord or fellow residents in the building. For example, they could be evicted if their unit becomes a fire hazard, attracts pests, or if their lack of cleanliness disrupts the ability of the landlord or fellow residents to be able to enjoy their own homes (within reason).
It is also the duty of a tenant to warn a landlord about damages in the home before they become more severe and costly.


Giving notice to enter a unit
Property owners must give tenants a 24 hour written notice before entering the unit in order to inspect it for issues related to maintenance, making repairs, or replacing something. The notice must include a reason for entering, as well as a date and specific time (between 8 a.m. and 8 p.m.) for when they plan on entering.


Written notice of entry can be provided via email if the person became a tenant under the Ontario Standard Lease from April 30, 2018 onward. There is a section that allows tenants to agree to email communications with their landlord. Communication can also be made via email if the tenant signed a form from the Landlord and Tenant Board titled "Consent to Service by Email". Otherwise, notice should be provided on a piece of paper. Text messages for notices of entry are not permitted.

Landlords also need to be cognizant of how often and for how long they visit the unit.
How quickly must Ontario landlords fix damages to a rental apartment?
The Residential Tenancies Act does not get into specifics about how quickly landlords need to make repairs to units and simply says that it needs to be done in a reasonable amount of time. When trying to decide what is within reason, consider a) how long you would be willing to wait for something to go unfixed before becoming frustrated b) how long you would want your space occupied/taken over by maintenance people.



Shoveling snow and landscaping
For an apartment building or a building with multiple units, the landlord is responsible for ensuring snow and ice is shovelled as it is considered a common area. According to the Residential Tenancies Act, exterior common areas include roads, pathways, parking areas, garbage storage areas and grounds for the use of tenants.
In the case of detached homes, deciding who is responsible for outdoor maintenance of the home should be addressed in the rental agreement.


Read more helpful tips and get valuable renting insight from the Rhenti property owner blog here.
---
The blog posts on this website are for the purpose of general introductory information. They can't serve as an opinion or professional advice. Speak to a professional before making decisions related to your circumstances.