What are the Ontario rent increase guidelines in 2023?
Ontario sets 2023 rent increase guideline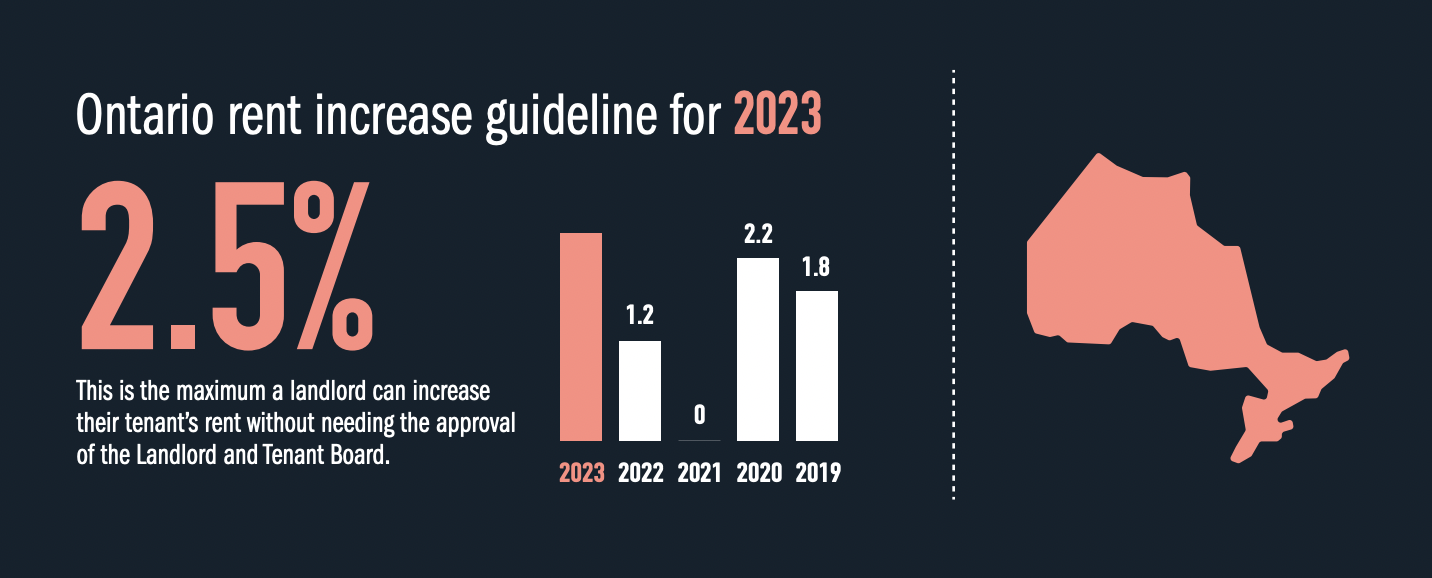 For 2023, Ontario's rent increase guideline is set at 2.5%.
Usually the rent increase guideline is set based on Ontario's Consumer Price Index, which is based on inflation. If this year's guideline was set based on current inflation rates, the rent increase guideline would be 5.3%. This year it has been capped at 2.5% to guard tenants from dramatic rent increases.
---
---
What is a rent increase guideline?
A rent increase guideline is the maximum a landlord can increase their tenant's rent without needing the approval of the Landlord and Tenant Board. It changes every year and is based on the Ontario Consumer Price Index (CPI).
The 2023 rate of 2.5% can be applied to rent increases happening Jan. 1 - Dec. 31, 2023. Tenants must be given 90 days' notice from their landlord, using one of the following forms:
Worth noting:
Notice can be given to tenants in 2022 for rent increases taking effect in 2023. This rent increase guideline does not apply to the following:
Social housing: low to moderate income households are able to rent units at a lower cost with assistance from the government.
Long-term care homes: homes where people receive nursing and personal care. The government funds the care that is provided in these homes, but room and board must be paid for by the individual.
Commercial properties:

commercial properties house include offices, banks, stores, automotive and repair services, hotels, lodges, resorts, entertainment venues, cultural centres and commercial condos. Worth noting: Some commercial condos are mixed-use buildings, and include both residential tenants and businesses. Residential tenants in mixed-use commercial condos still fall under the regular rent increase rules for tenants.
Also worth noting:
Newer rental units: The rental increase guidelines do not apply if a unit is part of a new building, an addition to an existing building, or a new basement apartment that was occupied by a tenant for the first time after November 15, 2018. This means landlords can raise rent above the 2.5% guideline, but tenants must be given 90 days notice.
In case someone disputes when a new unit was first occupied, we recommend keeping building permits, occupancy permits, documents from the builder, and new home warranty documents.
For newly finished basements and attics that have recently become rental units, the landlord should keep before-and-after photos, building permits, as well as permit applications and plans. This can help prove no one could have lived in the space prior to the tenant's occupancy.
---
Rhenti not only helps you find renters for your property, but helps you find the right ones so you rest easy. We know the rental process can be complicated, so our Rhenti team can help you set a competitive rental price, market your property on all of the top listing sites, and reduce your vacancy time. Learn more about Rhenti today.
---
Raising the rent above the rent increase guideline
There are some circumstances under which a landlord can raise the rent above the rent increase guideline. In most cases, it needs to be approved by the Landlord and Tenant Board, and is known as an above-guideline rent increase. The increase imposed on the tenant cannot exceed 9%, and the increases cannot exceed more than 3% per year. For example, you could raise the rent by 3% for 3 years, but after that you would hit the maximum.
Here are the circumstances for eligibility:
1. An "extraordinary" increase to the landlord's municipal taxes.
The rule for what is deemed an extraordinary increase is greater than the municipal guideline plus 50%. For 2023, an increase in municipal taxes of 3.75% or more would qualify as extraordinary. Here is a breakdown of how it works and how we got to 3.75%:
This year's guideline is 2.5%.
2.5% x 0.5 (50%)= 1.25%
2.5% + 1.25%= 3.75%
2. The landlord has done significant renovations to the applicable building/unit. This is known as a capital expenditure.
Not all renovations merit a rent increase above the set rate in the eyes of the Landlord and Tenant Board.
What doesn't count:
Regular maintenance/routine work
Renovations that are mostly cosmetic
Renovations that make the building complex seem more prestigious. To be considered a complex, a building needs to house six units or more.
Replacing something unnecessarily
Work done before December 3, 2005
Renovations that could make the landlord eligible for capital expenditures:
A renovation that restores or protects the physical integrity of the complex
Maintains housing standards or health and safety
Is needed in order to maintain electrical, air conditioning, ventilation, plumbing, heating, mechanical or electrical systems
Helps conserve water or energy
Provides accessibility to people with disabilities
Improves or maintains the security of the complex
The repair, replacement or new addition could benefit the tenant for at least five years


Requirements for a rent increase:
Work must be fully paid for when you file the rent increase application (90 days before you intend to put the increase in place)
Work must be completed within an 18-month period that ends 90 days before the rent increase happens

E.g. Sarah wants to increase rent by more than the guideline for 2023. To have this increase in place by July 1, 2023, at minimum (it is still up to the board) both of these requirements must be met:

The work on the house needs to have been completed sometime between October 1, 2021 - April 2, 2023 (90 days before the planned rent increase takes effect)

The works needs to have been completely paid for when she files the application
3. Security is being provided for the first time, or the cost for security has gone up
If the cost for security has increased or is a new feature of the complex, this could qualify for an above guideline rent increase. If the security service is being provided by an employee of the landlord, it does not qualify for an increase. Also, the security service must already be ongoing when the decision is being made by the Landlord and Tenant Board.




Worth Noting:
If you want to apply for an above-guideline rent increase with the Landlord and Tenant Board, you need to file it 90 days before the date you intend to increase the rent. You also need to give notice to your tenants before filing your request, so they also have at least 90 days notice.
As a landlord, increasing rent can be a touchy subject. But it's important to keep an eye on your long-term financial planning and budgeting. Knowing the rules around rent increases will allow you to both focus on your revenue and maintain a positive relationship with your tenant.
Have a vacant unit and looking for the right renter? Rhenti gets your listing in front of more renters than any other way, shortening your time to lease. Learn why more and more property owners choose Rhenti.
---
The blog posts on this website are for the purpose of general introductory information. They can't serve as an opinion or professional advice. Speak to a professional before making decisions related to your circumstances.
Discover more property owner insight at Rhenti blog