How to Attract Renters and Find a Tenant
The past decade in Canada has seen a steady decline in homeownership and massive growth in renter households – a trend that doesn't seem to be slowing down any time soon. With this growing demand for rentals – and the increase in competition that has accompanied it – it's more important than ever to learn how to attract renters as effectively as possible.
To help you do that, we gathered our top 11 ways to get people to choose your property over your competitors.
How to attract renters the right way
Tip #1: Price your unit right
The right price will have a major impact on drawing interest to your space, so be strategic about your rental rate. Base the number on current market conditions.
In other words, get to know what you're up against. Search for similar properties online at Realtor.ca, Viewit.ca, Rentals.ca, Facebook Marketplace, Zumper, and PadMapper, and consider alternative property types that could pique a potential renter's interest as well.
"Renters are predominantly price-driven given the necessities—such as number of bedrooms and neighbourhood—are equal. It's important to understand what similar and alternative units are priced at to remain competitive," says Tomas Ronis, Rhenti's co-founder, and CEO.
Alternative units are similar to one another, but they are not perfect comparables. For example, a renter might view a one-bedroom as a good alternative to a one-plus-den, since the den is often considered a bonus.
To remain competitive on your one-plus-den unit, determine your price based on what other one-bedrooms, in addition to what other one-plus-dens, are listed at. If there is a lot of competition on the market, and you can afford it, consider pricing slightly below average to stand out and attract a larger crowd.
---
Rhenti has a pricing tool that can help you determine what to list for. If you're interested in trying it out, book a demo with us.
---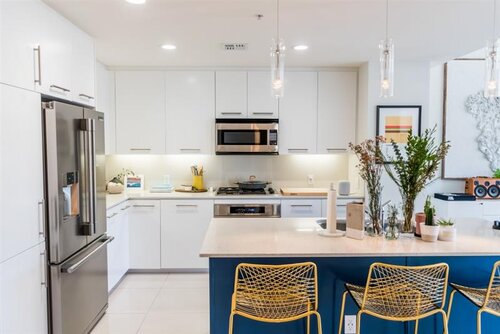 Tip #2: Make your visuals stand out
The right price draws potential renters in, but your photos keep them interested by helping them imagine what it's like to live in your rental unit. This is why hiring a professional to take your pictures is worth the investment.
Not sure where to start? Rhenti has a network of professional photographers you can access during the listing process. In addition to photography, consider creating a virtual tour of your space. Virtual tours provide a level of detail that photos don't, offering a more realistic look at your space and leading to more viewings from serious renters.
But before your photographer arrives, do some prep. Make sure your unit looks pristine for the shoot. Hide small, unsightly objects like cords, declutter, close the toilet seats, and open the blinds to let in the most natural light possible. Stylist's tip: add a plant or two to bring life to your property!
While it's important that your unit looks its best, make sure the photos are a true representation of your space in real life. Avoid using Photoshop to heavily alter your images, which can mislead potential renters into thinking your unit is bigger or brighter than it actually is. Making sure your photos are authentic will help avoid situations where renters feel like they've been duped when they show up in person.
Tip #3: Keep your description concise
Longer isn't necessarily better. Potential tenants tend to skim through the description, so keep it short, simple, and to the point. Include essential info like number of bedrooms, neighbourhood, building type, and amenities.
If there are any big selling factors you'd like to mention, such as a recently renovated kitchen or tons of natural light, weave those in as well. If you want to go the extra mile, get a testimonial from a past renter. This isn't an industry standard, but a positive and genuine reference might help your listing stand out from the crowd.
Tip #4: Market your unit where renters are looking
List your property on as many relevant channels as possible. In today's digital world, there are multiple rental listing sites where potential renters hunt for apartments.
From Kijiji to Viewit.ca, Rentals.ca, Padmapper.ca, and Facebook, each platform has a unique market you'll want to tap into. The more people who see your unit, the more likely you are to find a tenant. We advise utilizing all of these channels to maximize interest and find a tenant as quickly as possible, saving you time and money. We know this is a ton of work, so our Rhenti team is here to help.
Rhenti's most-loved marketing feature takes your listing and pushes it out to all of the top sites where renters search for units. Our professional-grade business accounts get rental listings the bump-ups and paid ad horsepower they need to attract more renters—and at a lower cost than you would be able to get on your own. If you're interested in learning more about Rhenti's marketing tool, get in touch.
Tip #5: Prep for showings like a realtor
Seal the deal with a pristine-looking space. Be sure to have your unit deep cleaned, add a fresh coat of paint and complete any small repairs needed. To help you get your unit renter-ready, you can use HomeStars to find local and reliable home service professionals. You can get quotes, chat with multiple companies and even hire a pro through HomeStars to accomplish your projects.
Before each showing, do these realtor tricks: close the toilet seats, open window coverings to let in natural light, and keep all the lights on. The idea is to frame your unit in the best way possible, creating a professional, warm, and inviting impression for potential tenants.
Tip #6: Host open houses
Arranging to come see a unit at a specific time isn't ideal for all renters; some prefer a more casual approach at their own pace. Open houses help make sure you don't miss out on these types of renters.
Open houses are also simply a way to cast a wider net. Say someone is walking home from work or on their way to do groceries; an open house sign can spontaneously attract these people in a way that other, more targeted approaches can't.

Tip #7: Research your competitors
How are other similar properties in your area advertising to renters? What kinds of visuals, messaging, incentives, and other features are they including in their ads?
Conducting a competitor scan can help give you an idea of how you should be advertising your own property – to understand what features your competitors are emphasizing that you should also emphasize, but also what features are unique to your property that can help you stand out from the crowd.
When you join Rhenti, our experts are happy to do this for you! We'll run comparables and help you write a listing description that will catch the right renter's attention.
Tip #8: Digitize your application and payment process
If you're still requiring people to apply and pay for rent through physical or in-person means, you may be alienating a portion of potential renters.
From applying for jobs to banking to even doing groceries, people have come to expect an easy, digital process that can be managed from their computer or phone. Renting is no different, and more than ever, people want to be able to apply, pay rent, and manage their properties digitally.

For property owners, meeting this expectation means allowing tenants to:
pay rent electronically

digitally apply, sign, and finalize documents including the lease agreement and

lease addendums

.

see a virtual tour before their in-person tour

benefit from a secure, automated package locker system

use apps for general maintenance and property management (i.e. schedule a repair, quickly communicate with certain parties, unlock/lock doors, book a party room, etc.)
Check out Rhenti to learn how we make the process of finding and signing the right renters fast and easier than any other way.
Tip #9: Offer move-in incentives
If you're in a position where your pricing, amenities, and other features look similar if not identical to your competitors, move-in incentives can be an easy and effective way to stand out and attract more renters.
These incentives can range from nice-to-haves to extravagant, including:
free wifi and cable for a year

free parking for a year

gift cards

free first month of rent

bonus cash

phones or other devices

furnished units
Tip #10: Reward referrals
Who better to act as spokespeople for your properties than current tenants? They know the nitty-gritty details that renters want to know, come off as more trustworthy, and can help get your property in front of people you might not otherwise have access to.
Getting current tenants on your advertising team can be as simple as offering them a reward for every new signed tenant that comes through them. This might be cash, a rent discount, or any other reward that makes sense for your situation.

Tip #11: Keep track of your renters' questions and concerns
Of the people that reach out but don't apply, attend tours or open houses, and/or apply but drop off at some point throughout the process, what questions or concerns do they bring up?
If the same questions or concerns keep coming off, be sure to address them in your messaging, visuals, and talking points during tours. The more you consistently incorporate this feedback, the better you'll become at hitting the boxes your target audience wants to know, and the more renters you can expect to attract.



To learn more about how to attract renters faster and more effectively,

check out Rhenti's services today

.
---
The blog posts on this website are for the purpose of general introductory information. They can't serve as an opinion or professional advice. Speak to a professional before making decisions related to your circumstances.